Angie Aparo
The American (Melisma/Arista)
By: Alex Steininger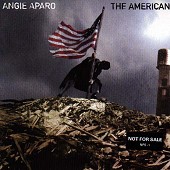 Atlanta-based singer-songwriter-guitarist, Angie Aparo's debut solo album is a collection of smartly crafted pop songs that range from flared rock numbers to subtle acoustic pieces. Merging technology with rock, The American is an enjoyable, hook-filled album sure to restore your faith in modern rock.

"Spaceship" deals with the argument of technology's impact on spirituality. Aparo's voice is spiritual and knowledgeable, singing with a settled pain while trying to comfort and protect those around him. "Hush" churns with its crunchy rock appetite and pop gloss, while "Third Time Around" delves into Aparo's toned down, folksier side. Wrapped around pop hooks and his emotionally driven voice, Aparo never fails to drag you in and hook you with his American tales of people and life.

"Beautiful" makes you want to cry as Aparo struggles through a haunting tale of a woman who sells herself for a living. As she tries to cope with the pain and troubles her choices have brought her, Aparo tries to find a reason for someone's life to be this horrid. His voice stretches beyond its usual emotional pull, bleeding with pain, leaving you struggling with him to find a reason.

"Memphis City Rain" tackles racism with a light, delicate pop touch while "Swell" adds a bit more rock to the picture before "It's Alright" jumps right back into a bouncy, pop-rock number. "Wonderland," the album closer, which was recorded live to a 2-track, strips down the music to just strings, an acoustic guitar, and Aparo's emotionally gripping voice. Here you get to hear Aparo at his sincerest, as both his voice and the instruments bleed the pain that lives in the music and the tales it presents.

Instead of sugar coating life and dodging life's questions, Aparo hits them head on. Instead of giving you the answers, he struggles with you trying to find a reason for things, while offering up his stories and experiences with the people he paints throughout his songs. A blue collar, down to earth musician with down to earth songs, Aparo's debut is a bloody, heartfelt piece that is sure to have you wrapped up with tears as you enjoy ever minute of it. I'll give it an A-.