Braid
Lucky To Be Alive (Glue Factory)
By: Alex Steininger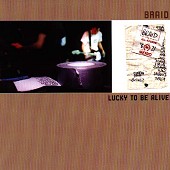 Recorded at their last show on 8/21/99 at The Metro in Chicago, the now defunct Braid went out with a bang. With more than five hundred live shows and five years under their belts, Braid earned a place at the forefront of the modern emo movement, delivering sincere, powerful, and melodic rock every time they hit the studio or the stage. Lucky To Be Alive is a testament to all of this and more.

"The New Nathan Detroits" rips through your skull with fiery guitars, emotionally bleeding vocals, and a heart-on-the-sleeve attitude that reaches its fans with more than the shiny melodies the band juices up. "Please Drive Faster" turns a simple rock beat into a balanced fury of chaos, stability, and all out rock, while "Never Will Come For Us" slows things down and calms you as you sit there and think about what they're saying to you.

"You're Lucky To Be Alive" is equal parts melancholy and vigor. "A Dozen Roses" cuts through you with fresh, roaring guitars and relaxed, confident vocals, while the drums and bass work together to provide ample energy to push the song forward. And "First Day Back" launches into a powerhouse barrage of guitars, drum, and bass, as they sonically attack you from all sides with a plethora of emotions and truth.

Emo fans will recognize the intensity and urgency in Braid's songs. They'll also recognize the fact that this band helped define and develop emo into what it is today. They may not have pioneered the sound, but they added their own touch to it, and helped give it new dimensions every time they played. Remember the good times with this live album. I'll give it a B+.