The Grip Weeds
"We're Not Getting Through" b/w "I Can Hear The Grass Grow" [7" single] (Ground Up Records)
By: Gary "Pig" Gold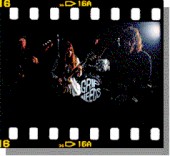 New Jersey's very own Grip Weeds have for years now been more than ready and always able to distill their two primary influences (the drive and energy of the early Who; the melodic dissonance of the Byrds at their best) into a sound which up-dates, as opposed to merely emulates, those much-hallowed Sixties. For that alone, this band deserves a heap of credit.

"We're Not Getting Through" is a perfect example of how, in the right hands, such good work can and does ring as true to 2000 as it does to '66, with vocal and instrumental ability spot-on and production decidedly more Power than Pop. In other words, this is the sound of a band edging ever closer to the creation of a totally original musical blueprint which, once completed, should knock all comers for the proverbial loop.

Meanwhile, just for fun on the flip side, the Weeds offer a cocky cover of an old Move tune, just so as to reinforce the notion that this is one band not afraid to preen in the rear-view mirror while still most assuredly rocketing forward.