The Johnny Staats Project
Wires & Wood (Giant Nashville)
By: Alex Steininger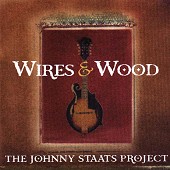 Award winning mandolin player Johnny Staats unleashes his lighting-fast picking on his Giant Nashville debut, Wires & Wood. A UPS driver by day and a bluegrass up-and-comer by night, Staats' debut finds him paying homage to his influences (Bill Monroe and The Country Gentlemen) as well as stamping the music with his own, fresh touch.

"Mandolin Meltdown" finds Staats dueling with one of his mandolin heroes, Sam Bush. Relaxed and soothing, the song pushes forward with a romantic melody, while still pumped full of enough excitement and vigor to keep your feet moving, if you want. "Legend of the Ghost Coon," a late-night good time instrumental, showcases Staats' stellar mandolin next to a crisp acoustic guitar, while the title track gives us a taste of Staats' singing along with some soothing harmonies.

"I was on a three-month tour with a bluegrass band in Taiwan," explains Staats. "Things did not work out as we had planned. We all wanted to go home shortly after we arrived. This song is the only good thing that came out of the trip." "Escape From Taiwan" is a fast-paced, escape-theme number that musically chases after Staats' thoughts and fears as the trip to Taiwan goes bad. An eerily pleasant number, the music speaks without the use of words, and gives you an upbeat perspective on a downright disastrous trip.

"Catch Me If You Can" delivers another chase as you run after Staats' mandolin as it picks and plucks its way down the musical trail it blazes and leads. "Jessica's Lullaby" is a beautiful, emotional instrumental that, unlike many instrumentals, speaks through the music so well words are not needed. And then there is "John 'Barty' Jam," the bonus track, an all-out jam session sure to get you up and off your ass and moving to the groove.

UPS may be his day job now, but if things go the way they should, Wires and Wood just might secure Staats a place in modern bluegrass. Delicate, active, beautiful, and lush, Staats can jump around without losing you, and always gives you a good time. I'll give it an A-.