Oberon
Sonnet (Koch Entertainment)
By: Alex Steininger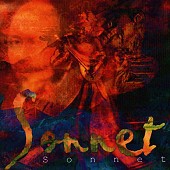 Trammel Starks, the well-known creator of the Billboard -charting classical crossover group Taliesin Orchestra, alongside vocalist Felicia Sorensen (together known as Oberon), and distinguished British Shakespearean actors who have appeared on The Royal Shakespeare Company and London's Globe Theatre, present us with musical visions of the Bard's sonnets. Read by the Shakespearean actors, the sonnets are soon accompanied by original music from Oberon and Sorensen's lyrics.

Being that April is national poetry month, this album's release couldn't have been more fitting. The actors magnificently read each sonnet. And, then, Sorensen's beautiful voice, inspiring lyrics, and Oberon's captivating classical, new age sound bursts in and lights up the sonnets, giving a whole new twist on Shakespeare. And though Shakespeare has been re-invented several times, Oberon's attempt is fresh and vital, paying homage to the genius that he was, while adding new light and dimensions to his classic work.

Unlike other Shakespeare works that have been re-invented in the past, Oberon's portraits of the sonnets will appeal to fans of classical and new age music, as well as Shakespearean scholars. Even those who aren't familiar with Shakespeare's work, or aren't necessarily into classical/new age music will find something to appreciate and love here. The album is a beautiful gem of timeless work. What more could you ask for? I'll give it an A.