Josh Rouse
Home (Slow River)
By: Alex Steininger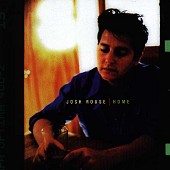 Home, the sophomore release from singer-songwriter Josh Rouse, is a mature, pop-laden disc full of ten equally tender, equally sophisticated numbers that run through the well-traveled road of life. Rouse is able to capture the desolate feelings of the individual sole in a melancholy way, while still ensuring a light at the end of the tunnel with his optimistically hopeful vision.

Rouse's stark voice helps capture the raw emotion and tempered feelings he winds through on "Laughter". A mild drum beat bursts through the delicate bass and the light guitar, while Rouse's voice leads the journey through pondering thoughts that swerve in and out of hope and desperation. The injection of horns help lighten up the mood and give a positive demeanor to the song, while Rouse's voice keeps things real and down to the ground in a 'take things day-by-day' approach to life.

The sunny guitars of "Marvin Gaye" infuse happiness hope into the song, setting things up for an uplifting number before the rhythm section come in with a heavy hand, helping to add a darker touch to the song. Rouse's voice and the cello paint a melancholy face on the song, while the tropical shine of the guitar keeps things upbeat, along with the horns, which add even more of a pleasant vibe to the song.

"Parts and Accessories" is a stark, haunting piece. Building into an optimistic offering of peace and hope, as Rouse struggles through life looking for a light at the end of the tunnel, he offers up the possibility, through his own self discoveries, that there is indeed happiness that shines now and then ("Where do I fit in/ This game that's begun/ Is it too late to turn back now/ But there's some hope I suppose/ And a light that shows/ It dangles above my head/ It comes out now and then").

The eerie cello and violin of "100m Backstroke" will have the tears accumulating underneath your eyes, while "Hey Porcupine," with its upbeat, cheerful melodies, will find you with a smile and a head full of optimism. Then there is "In Between," a solemn pop number, and "Little Know It All," with supple trombone and Wurlitzer adding to the mood, not to mention a grave trumpet sound. All of which will leave you questioning the meaning of life while pondering over the finer, happier moments you've experienced in expectation of many more good times ahead.

Rouse is dark and melancholy, but not to the point of depression. He's not ready to give up just yet, as the effervescent pop feel through out will attest to. The album has its skeletons and demons to work though. But, it's also got a hopeful pulse driving the songs. A talented singer-songwriter, Rouse deserves much acclaim for his sophomore release. I'll give it an A+.