Tiny Tim
Rock (Regular/Festival Records)
By: Gary "Pig" Gold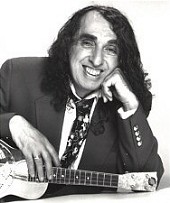 I've often been criticized for being a bit too hard on those musicians who choose to toil in the, shall we say, h.metal idiom. Well, with all due respects to Lord Lemmy of Motorhead, you know why I sometimes get down on metal? Coz I rarely, if ever, hear it done RIGHT anymore. Meaning a dark wardrobe and scary band logo can only cut it so far, now that a quarter century's passed since the last decent Sabbath album did it all first. Meaning, basically, heavy metal's been by and large just pissing lemonade into the wind for quite some time.

Imagine my shock, then, when a strange package from down-under arrived the other day, containing sounds so purile and vicious that after one play through the first song I didn't see my cat for three whole days (The true test of metal's mettle, I'll have you know). Each and every selection herein clocking in at well over the 15-minute mark ("Rebel Yell" hits a jaw-dropping 23:38 - could Mr.Idol ever keep it up for that long?) there are notes screeched throughout that Rob Plant may only dream of, and the entire cataclysm is topped off with a positively demonic reading of the classic "Eve Of Destruction", appropriately enough.

You may very well have to write off to far off Australia - to AC/DC's people, in fact - to secure your very own copy of this masterwork-- that is until some domestic so-called h/c label scrapes up sufficient balls to issue it here. In the meantime, I defy any of you heavy pansies out there to show me one other act, or one other record, Tiny Tim Rock couldn't eat for breakfast.