The Larry Stephenson Band
Two Hearts On The Borderline (Pinecastle)
By: Alex Steininger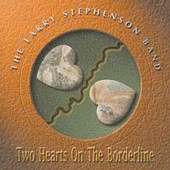 The sweet "Two Hearts On The Borderline" is all about love; with Stephenson's sunny lead vocals and the warm, enriching harmony vocals, the song caresses and croons as you sit there and bask in its warmth. The twitch of the banjo and the thump of the acoustic upright bass give the song a danceable sensation, while the acoustic guitar and the mandolin give it the bite it needs.

Followed by the hot, danceable sensation of "I've Got A Funny Feeling," the tender "You're Not Easy To Forget," and the delicate, slowness of "The Land of Living," The Larry Stephenson Band creates bluegrass that is harmonious, warm, vibrant, and rich.

With more than ten years under his belt, Larry Stephenson creates bluegrass in key with traditional, but stamps it with his own distinct touch of modern realism. Kind hearted and big sounding, the lively bluegrass sounds jump out at you on Two Hearts On The Borderline. I'll give it a B.