Milk Cult
Project M-13 (0 to 1)
By: Alex Steininger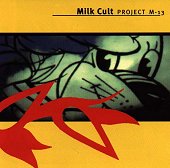 Recorded in France on the French Government's dime, Project M-13 is an experimental album that found Milk Cult recording with over 30 musicians and groups of musicians, ranging from a 30 piece African orchestra to Buddhist chanters, Corsican singers, and French folkies, to name a few.

All of the artists played along with backing tracks, but they never played along with each other. Milk Cult took the resulting recordings (hundreds of hours of music) and edited, played over the tracks, and combined it all into a musical collage that embodies the term 'experimental'.

Hear as electronica meets industrial and birds chirping is combined with an African rhythm section on "Hawaiian Motorcycle Joyride Act's 1 and 2." Then hear French folkies blend in with the experimental electronica on "Donka," before feeling your head spin when the African orchestra gets a twist on "Drug Lord". All this while songs like the runaway clang of "Mystery Oasis" meets the rock 'n' roll, jazz, and industrial fusion of "Funky Fat Tony."

Hard to describe and put into words, Milk Cult truly breaks new ground on the highly experimental, twisted collaboration between a variety of musicians and musical styles. This has been said many times, and holds true in a lot of cases, but here it is ever so valid: this can only be experienced by hearing it. I'll give it a B+.