INTERVIEW: Glampire
Glambient Rock Music
By: Sonya Brown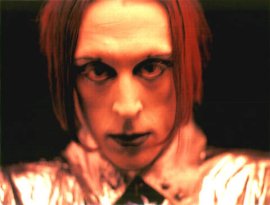 Glampire. The name seems to say it all. Glam. Goth. Sex. All rolled up into a larger than life entity. A one man power source pumping out electric pop with a gothic edge. Take one look at Glampire and you might get the Marilyn Manson stereotype. Take one listen to Glampire and that stereotype fades.

Having grown up in the glam era, and being a tremendous Ziggy Stardust fan, I wanted to learn a bit more about Glampire.

Sonya: Can you tell me anything about the way Glampire came about. Was this an evolution of a character (such as Bowie's Ziggy Stardust) or do you feel the entity of Glampire truly represents you as a person?

Glampire: It was an evolution in musical cohesion as well as personal. It was time to hone all the various styles and influences that had been building for years.

Sonya: Is there a main category you like to put Glampire into, or do you prefer crossing into several different music genres? (goth, pop, glam, rock...etc.)

Glampire: I feel that I cross into all those genres and a few more. I term the musesick I make "glambient" because that is what it sounds like to me. In the end, all the tags that people put on the Glampire sound just fuel the fires to call it glambient.

Sonya: You cite music influences from Kiss to Bowie - among many others. These are all rather varied styles of music. Do you feel there are any common threads to your influences, such as the powerful theatrics they seem to have in common?

Glampire: These are influences that other people put on my sound. In actuality, I feel the sound of Glampire is quite original and a distant cousin of these cultural references. It is always nice when critics put Glampire in the light of these accomplished artists, and I feel honored. The common thread would have to be strong composition and flamboyant presentation.

Sonya: What can you tell me about your live shows? Is there a certain atmosphere you like to create?

Glampire: I am without a big budget, so there are no special effects. The musesick has to do all the work. The sound fills the room and the people take it from there.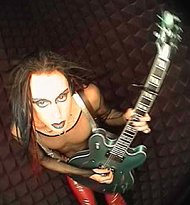 Sonya: I love the strong guitar presence in your music. Do you normally play the guitar during your live shows, or do you have a back-up band perform with you?
Glampire: Both, it depends on the night and the budget. I play guitar when it is applicable. I enjoy singing most and that takes most of my focus. I have used a live band as well as tracks, sometimes both, sometimes just me and an acoustic guitar.
Sonya: Are there any plans to tour the West Coast? If so, when?
Glampire: There are always options being considered. It all depends on the interest level and the budget.
Sonya: Who do you most enjoy touring with?
Glampire: Anyone who will carry all the gear! hahahahaha!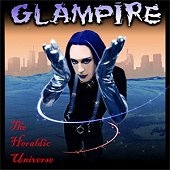 Sonya: Your latest CD, "The Heraldic Universe" contains some powerful political statements. If you could express your strongest political comments to the government, or to the people, what would you most like to say?
Glampire: We all live in a world where the media plays the roll of town crier. In this cacophony of half truths, we need to let the heart guide us through all the disinformation. This is a great time to be alive, if for no other reason then that we can communicate and exchange information at an alarming rate. I say investigate and really listen to the inner voice. The problem is too many people just sit back and take the story for what it "appears" to be. If we as a planet stopped buying into the politics and the big business scams, we could eradicate them all. They need us as consumers more that we need them as guides. Without the people's support, they would all perish.
Sonya: "The Heraldic Universe" also contains messages about self-esteem. How important is this to you?
Glampire: It is tantamount in my growing and learning about who I am and how people relate. Self-esteem is a vanishing quality in humans. People seem to have a weakened sense of themselves. It is a mirror version of the media's interpretation of how we should be. Many kids grow up being told they should not be proud or have self worth, less they be stuck up or pretentious. It is our love, respect and understanding of who we are as individuals that make the world as a whole a much better place to live. Humans are bred with imperfection and mistakes will inevitably be made. The real questions for ourselves come from within us... in that place where we are most alone and most naked. In there is the truth of who we are, like it or not. The power to grow, change and learn is also inherent. The challenge is shutting off the static that permeates our lives long enough to get clarity and perspective.
Sonya: What are your hopes & dreams for Glampire?
Glampire: The professional goals and dreams are to get the musesick out as far and wide as possible. Also, making enough money from this so that I can continue to do so till the end of my life. The personal dreams are many. I am working towards building a life that consists of less and less static and less unnecessary activities that do not involve musesick or the business of it. On a global level, I would like to see a time when people can respect each other for their differences and get on with life without prejudice and sexism.
Sonya: Are there any other comments you wish to make?
Glampire: A very big thanks to all the people worldwide who support what I do. It makes it all worthwhile knowing there are people who are interested, being influenced and moved by what I do. Thanks!