Orange Goblin
The Big Black (The Music Cartel)
By: Alex Steininger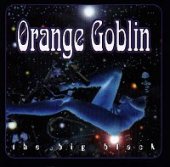 With influences ranging from Black Sabbath to Pink Floyd, the UK's Orange Goblin fire up the pot and cook a thick, heavily spiced mixture of hard rock, metal, and stoner psychedelia that penetrates the mind. Their third album, The Big Black, recalls moments of getting stoned behind the school while listening to hard rock purveyors like Sabbath, as well as tripping to Pink Floyd and Led Zeppelin.

The guitars swirl in "Scorpionica," the metal has a mind of its own on "Quincy the Pigboy," and "Cozmo Bozo" takes you to the outer limits of your mind with equal parts shrooms and Pink Floyd eating away at your thoughts while the music develops new thoughts for you.

The force of "298 KG" is what hard rock is supposed to be about - before rap became the bedroom companion of the sound. Taking it back to the glory days of 70's arena rock, "King of the Hornets" and "You'll Never Get To The Moon In That" hit you slow, but hard while the music penetrates your skull and takes you to another place to enjoy and relax.

With rap-rock being passed off as heavy metal these days, Orange Goblin aren't afraid to reclaim the throne and take it back to the glory days when Led Zeppelin, Black Sabbath, and their contemporaries were paving the road for the future. Nostalgic and refreshing, here is the new wave of hard rock. I'll give it a B-.