Amazing Crowns
Royal (Time Bomb Recordings)
By: Alex Steininger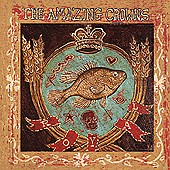 With the addition of new guitarist J.D. Burgess and the band's sophomore release, the aptly titled Royal, the Amazing Crowns prove that they may have lost part of their name (originally known as The Amazing Royal Crowns), but have only added to their sound.

Sporting a new record label, Time Bomb Recordings, home to another great modern rockabilly act, The Reverend Horton Heat, The Amazing Crowns start a new life with Royal. Whereas their self-titled debut was full-throttle, non-stop greaser rockabilly, Royal is a diverse collection of all the elements that have made them a must for any fan of live music. Punk, rock, pop, country and, of course, the original rockabilly sound, all make the band one of the sweatiest, liveliest acts out there. And, though their live show still isn't fully captured on this album, Royal comes pretty damn close.

Opening with what is sure to become the band's anthem, "Still Royal" gets in the face of anyone who doubts them, proving, as the song proclaims, they're still "royal to the loyal". The thump of the acoustic bass soars while the chatter of the guitar struts it stuff; Jason "King" Kendall's voice keeps things masculine, fattening the sound and adding a powerful boom.

Keeping the rock alive, "Mr. Fix-It" jimmies its way into your soul with a zesty piano bite in the beginning and crunchy rhythms throughout. Ample pop ensures the song gets stuck in your head, while the rockabilly roar screams in your ear and itches at your feet, pushing you to the dance floor as you uncontrollably move to the addictive grooves the band delivers each and every second.

"Perfect Sin" and "The Ride" keep the wild, sweaty greaser-rock alive as Jack Hanlon's acoustic bass never fails to create the perfect atmosphere for you to move in. J.D. Burgess' guitar roars along like a motorcycle on hot, burning pavement, Judd Williams' drums shake, rattle, and roll, while Kendall's vocals are as punk as they are dynamic.

"Halos & Horns" pays tribute to rock 'n' roll pioneers like Chuck Berry and Buddy Holly, as well as rockabilly legend Carl Perkins. "Hat Size" flashes you back to 50's diners, leather jackets, tight, white t-shirts, sock hops, and big, gas guzzling cars. And "Greasy" sums up everything rockabilly is all about: fun, a good time, and lots of sweating between boys and girls.

"Flipping Coins" nods it's hat to Hank Williams and other country legends, a style that helped define rockabilly. The fluffy percussion sparkles while the pedal steel glides like a bird in the sunny morning air. Kendall's voice, which is usually wild and dangerous, becomes tender with a down-to-earth warmth, so much so that you feel as if he's crooning to you specifically.

Then there is "Invitation to Alienation," one of the album's brightest, among bright, moments. Sweat-drenched, viciously delicious, and as hot as the sun, the scorching rocker soars over a thundering rhythm section, steamy guitars, and Kendall's trademark howl.

With Royal The Amazing Crowns prove to be one of the best (if not the best) modern rockabilly band out there. They can have you hiding in a corner out of fear, eating out of their hands, and dancing endlessly to their blistering grooves. Ah... they take you back to a time when music was about music and not about money, greed, and posing for a photo opportunity. Here is a real rock 'n' roll band ready to get you rocking at less than a moment's notice. I'll give this album an A+.