Elliott Smith
Figure 8 (Dreamworks Records)
By: Alex Steininger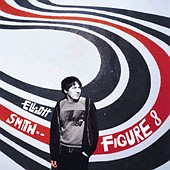 For the most part, the term genius has no place in the current musical marketplace. Though, with everything, there is always an exception to the rule. Elliott Smith is the exception here. He is the epitome of a musical genius, far beyond that of anyone else out there today. He crafts tender pop masterpieces that are rich, insightful, reflective, and deeply rooted in the human psyche.

His latest, Figure 8, his fifth solo album to date, finds him treading through musical landscapes of past [see his Dreamworks debut, XO], while continuing to further his musical visions and expand beyond the beauty he has created in the past.

His first solo album, Roman Candle (Cavity Search Records) was a sparse, primarily man and guitar folk-pop album that relied on Smith's knack for writing deeply personal/tremendously universal lyrics. And even though the lyrics still play a big part on Figure 8, the vocal harmonies and bright melodies he creates add several more layers and dimensions to the sound, ensuring that everyone finds something to enjoy in this album.

"Son of Sam," the album's opener and first single, cements Smith in the history books as a pop mastermind, capable of wrapping harmonies and melodies around the listener as they absorb themselves in the story, following every line with eager curiosity.

Leaving the slick, lush production of "Son of Sam," "Somebody That I Used To Know" finds Smith back where he started, with just his voice, emotions, and an acoustic guitar. Additional guitars fill out the song, but the main focus is Smith and his guitar, as he tries to forget an open-wound from a bad break-up.

"Junk Bond Trader" swings back to the full-on production job, completely tight and glossy. Smith's surreal pop ability shines as the melody spins around in your head. A piano, strings, and bells fill out the song, giving it an eerie essence, while still pulling you in with a dark, curious breath to it. The drums add a punch, as does the bass, while the guitars jangle, reeling you in with shiny, hook-laden riffs.

"Everything Reminds Me of Her" relies primarily on Smith's vocals, supple acoustic guitar, and ear for writing simple sounding, yet highly unforgettable pop. "Everything Means Nothing To Me" dances around with sparkling piano reminiscent of light lounge, while Smith's pop sensibilities draw you in with soft hooks that hit you repeatedly as he proclaims "Everything Means Nothing To Me". Then the waves come crashing down on you when the band kicks in and the melancholy orchestration brings a tear to your eyes as the rhythm section keeps things powered.

Starting out with bright, jangle-y guitars, "LA" soon turns into one of the bolder rockers on the album. Jarring and both melancholy and optimistic, Smith's confession that "Living in the day/ But last night I was about to throw it all away" seems depressing at first. But, when taken into consideration with lines like "Good morning all/ It's a beautiful day", you can't help but feel as if the battle between death and life is over, with life winning out.

"In the Lost and Found (Honky Bach)" delivers a honky-tingled piano number plentiful with delicate vocal harmonies; you'll be hearing the song swim around in your head for weeks. "Wouldn't Mama Be Proud" continues with more bouncy pop lined with strong vocals, powerful words, and warm hooks. And then there is "Happiness," an organ-drenched, punchy pop number that bounces around as much as it cradles the listener in its arms. Smith's detached, thoughtful voice bleeds with honesty when he proclaims "All I want now is happiness for you and me".

The gifted Smith is able to reel you in solely on his lyrics or melodies alone. Coupling them together, though, he makes you want to weep as you feel every song flow through your body with stark honesty and a gentleness that can't be manufactured or bought. It comes straight from the heart and is transferred between those who are able to transmit it and those who can receive it.

Very few artists can demonstrate this kind of advancement between their debut and their final album, let alone their fifth (with plenty more to come in the future). Smith's clear vision and ability to pull it off keeps him progressing from the naked to the complete package. Figure 8, recorded at several studios, including the infamous Abbey Road, has all the bells and whistles his independent albums could never afford. With added instrumentation and a recording budget behind him, Smith paves the way for future generations to salivate over and re-create. A pioneer in his own right, Smith pulls from his influences and decorates their ideas , all the while creating something uniquely his own.

With only a few listens, Figure 8 will easily earn itself one of the best albums of 2000; maybe even record of the year. Smith keeps on spinning heads and amazing fans and critics alike. Here is a modern masterpiece not to be passed on or listened to for any specified amount of time. This is a timeless jewel that should be re-examined often. I'll give it an A+.