The Jamons
Beauty Bravura (Tomato Head Records)
By: Alex Steininger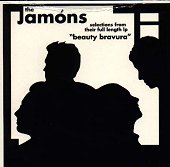 Quirky, sugary, and pop-charged ska-punk is what the Jamons are all about. "Positive Friction" will send you bouncing with its distorted guitars and pop-punk dynamite, where as "Better Days" wraps bright horns and power-pop hooks around a fuzzy ska upbeat. Then there is "Robots," another blast of ska-punk lightened up with plenty of pop.

If you're looking for something that will energize you and make you move, than the Jamons might just be your ticket. Pop-punk and ska play well together in their mix; I'll give it a C+.