Jandek
White Box Requiem (Corwood Industries)
By: Gary "Pig" Gold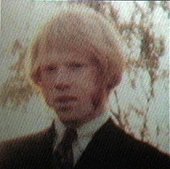 Long, long before such "eccentrics" as Daniel Johnston ever considered pressing their livingroom ramblings onto record, Goodyear Tire's very own Jandek was busy waxing his thoughts poetic onto vinyl and mailing them high and low to reviewers and kindred spirits the world over. Now nearly a quarter century and just about 30 (!!) albums later, our boy is still going strong, and I'm happy to report his relatively recent conversion to the digital domain doesn't seem to have blunted his impact one single byte: his songs remain as starkly beautiful as a David Lynch opening shot, and the accompaniment (imagine handing your most ornery nine-year-old nephew a $29 guitar before locking him for three days in a windowless basement) remains as brutally poignant as ever.

Most definitely NOT for the musically faint-of-heart, of course, Jandek continues to bravely wail where even the most supposedly alternative fear to tread, and I for one will always be along for the ride.

You should be too.