Melissa Ferrick
Freedom (What Are Records?)
By: Alex Steininger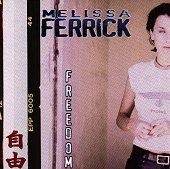 The aptly titled Freedom finds Melissa Ferrick writing, recording, producing, and playing the majority of the instruments. A soulful, no frills approach to life, Ferrick writes relaxing, jagged folk-pop songs that are rooted in the song, rather than sugarcoated hooks or slick production that buries the natural feel of the music.

"Freedom" quickly establishes the album as a very natural, bare bones project born out of a labor of love more than anything else. The countrified, soaring guitar trickles with an earnest, early morning glow, while the song is filled out with delicate bass and Ferrick's rich, passionate voice.

Diving into the quirky bounce of "Hold On," the album's pace is kicked up a notch, as drum loops and deeper bass add a boom to Ferrick's laid back, easy going style. The somber, self-empowering "Some Kinda Nerve" ripples with an ascending groove that will have you focusing on the words, which are confident and full of will power.

Then there is "Little Love," a supple stream of melancholy guitars and a sweet, soothing voice that reminisces while trying to move on after failing prey to a love that went sour. The simplistic "Then So It Is" will have you feeling Ferrick's voice as you both struggle through life and try to find your place in it. And "Drive" will have you doing a double take, as you crawl into the dark, drum loop-laden industrialized folk number that closes out the album.

A very grassroots felt album, the feelings and emotions are all developed from the ground up and are as much an expression of Ferrick's life and urges as they are the listener's way of escaping their fears and self doubts. I'll give it an A-.