North Mississippi All Stars
Shake Hands With Shorty (Tone Cool Records)
By: Alex Steininger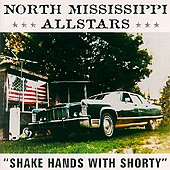 With muddy, funktified bass, a country tingle that burns like moonshine, an onslaught of percussion, and striking blues licks, with some gruff Mississippi soul vocals, the North Mississippi All Stars bring the blues back to the heartland.

Led by the guitar and vocals of Luther Dickinson and accompanied with the tremendous rhythmical styling of drummer Cody Dickinson and bassist Chris Chew, the North Mississippi All Stars deliver sweltering blues. Such is the case on, "Shake 'em on Down," the opening track, a steaming slab of distortion-fueled guitars, punchy bass, and the non-stop rattle of the drums.

"Po' Black Maddie" is a sonic collision of rough, street schooled vocals, devilishly sly guitars, and a steady step from the rhythm section. "Drinkin' Muddy Water" is a smoldering combination of smoky vocals and passionate drums, while "K.C. Jones" is a slow, melodic sit-back-and-feel kind of number.

If you're looking for music that rumbles and shakes with the same lively drive that led to white Suburban European kids like the Rolling Stones completely changing the face of rock (but this time with the rock already present) than this is your trip. The scorching guitars are up front and ready to burn, the rhythm section doesn't give up, and the vocals are distinct; perfect for you to down a few too while impressing your friends with your impeccable taste in music. I'll give it an A.