The Rivieras
Califonia Sun - The Best of The Rivieras (Norton Records)
By: Alex Steininger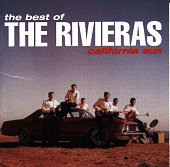 California Sun, a comprehensive collection of Rivieras recordings from 63-65 finds the surf/garage rock kings in pure form: sweaty, wild, fast, and plenty exciting. Opening with the smash hit "California Sun," (and closing with a slower version entitled "California Sun '65"), and including the rare pre-California Sun single "Played On," The Best of The Rivieras packs everything you'd expect from a collection of these surf/garage rockers.

The sped up "Twist and Shout" will have you jumping and screaming, while the dance-able "Let's Have A Party" will get those hips and feet working in unison. The sensuous ballad "Played On" gives you a taste of the other side of the band. And the punchy "When The Saints" will send you bouncing off the walls.

The aptly titled "Whole Lotta Shakin'" will become a party staple for you; the instrumental "Battle Line" will remind you of the warm beaches and beautiful women of California; and "Tossin' And Turnin'" will have you tearing up the dance floor.

Straight from the vaults and into your home, Norton Records' continues with its fine tradition of bringing back the best in rock 'n' roll from the past and allowing fans and audiophiles alike to relive the sounds that shaped their listening experiences for ever. I'll give it an A+.