Sourmash
Hoedown A-Go-Go [Cassette] (Illbilly Records)
By: Gary "Pig" Gold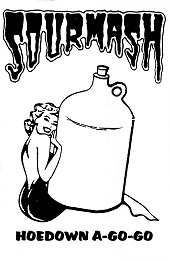 Ultra-minimalist, instrumental (!) sludgeabilly from the good folk down at Illbilly which sheds all new light on the current crop of guitar-slingers now littering the non-New York bar scene (not to mention the re-issue bins).

If you can attempt to imagine Television tackling a Surfaris tune, ever wondered what the V. Underground could've accomplished if they spent less time reading, or simply crave a more sonically raw B-side for the Music Explosion's biggest hit, you'll find it ALL here, my friend, along with more tortured Telecasters and delightfully ham-fisted drumming than you can shake a bottle of paint remover at. Then just when you think you couldn't be having any more brainless fun, along creeps a seemingly trite little ditty entitled "Calling Elvis": unlike what I bet you're thinking, this track sounds as if it was unceremoniously chopped from the first Hendrix album, I kid you not!

Yes, could the phrases "Something for everyone", not to mention "Use caution when handling", ever apply more to one single tape?