VARIOUS ARTISTS
The Best of Twist-A-Rama (Norton Records)
By: Alex Steininger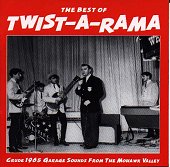 The first ever re-issue of the highly sought after 1965 collection of teen bands from the Mohawk Valley, The Best of Twist-A-Rama - with two bonus tracks - is a rare glimpse into the 60's garage sound that shaped rock 'n' roll forever.

Andy & The Classics salute one of the best cartoons ever, The Flintstones, with "Yabadabado," a primarily-instrumental sax-driven shaker; The Brix deliver a soaring instrumental on "The Brick"; The Galaxies' "Crazy Woman" is a very lo-fi trip through the heart and soul of garage-rock ballads; and The Reveres' "I Want You" is a slow, easy-going stomper.

Audiophiles be warned; the album was mastered from a mint copy of the Twist-A-Rama LP. But, due to primitive fidelity and the low grade of plastic used on the original 1965 pressing, surface noise is detectable.

With that in mind, this lo-fi trip de jour through the pulse of young garage bands of the 60's is a classic piece of wax, now available, for the first time, on CD. A treasure chest of music on one ripe CD, the album will have you shaking and moving to the tender, raunchy sounds that helped shape rock 'n' roll for the better. I'll give it a B.