Wheat
Hope and Adams (Sugar Free Records)
By: Alex Steininger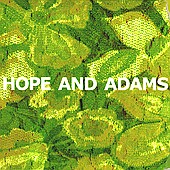 With slick, over-produced pop music filling the airwaves, new breeds of musicians have begun to re-claim the pop throne and give it a just treatment. Wheat is one of these bands; their latest, Hope and Adams is a luxurious pop record that takes you back to the days when gentle melodies, lo-fi recordings, and attention to melodies mattered.

The gentle hum of the organ on the opener, "This Wheat," sets the mood for the album, a mood that is sunny and serene, filled with optimism and bright-eyed happiness. The lazy, fresh-from-a-sleep vocals on give the album a relaxed feel, as the pitter-patter percussion trickles throughout the music, giving it a soft, bouncy freedom. The tender glide of guitars hums, while the impressionable bass goes with the flow.

The band is able to deliver a steady rocker with luscious vocal harmonies and catchy hooks ("Raised Ranch Revolution"); make your head spin with a crunchy, jumpy lo-fi trip ("No One Ever Told Me"); or effectively make your heart stop as you stand still and follow every note with precision ("Who's The One").

From the slithering shake of "Off The Pedestal" to the gentle trickling of melody on "Body Talk (part 1)" and "Body Talk (part 2)", Wheat delivers lush lo-fi pop music that can make you shake one minute and then have you holding your breath in silence the next. Hope and Adams is a warm, optimistic album with elements of fog covering it throughout. I'll give it an A-.