The Phenomenal Cats
"Seagirl" And 5 Other Dogs (Sound Asleep Records)
By: Gary "Pig" Gold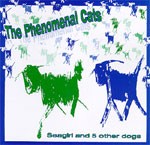 Psst!

I know a band that not only knows how to write, arrange, sing and perform wonderfully ear-provoking material, but actually knows how to record it too - no small feat in these digitally sub-sonic daze.

The band in question? Harper Woods, Michigan's very own Phenomenal Cats, who score absolute direct hits with at least half the selections on this Extended Play: "Seagirl" is so delightful and so absolutely bright-eyed that even the Cats themselves can't help la-la'ing along, and "Greatest Lullaby" wistfully reminds us that yes, Paul McC. really COULD do some fine work 'round REVOLVER time.

But the true treasure here, recorded at home no less, is the closer, "Maybe I Need You", which melodically sets out a distress call for the late great Left Banke without once sinking into the realm of power-paisley'isms. Suffice to say, naming themselves after one of THE KINKS ARE THE VILLAGE GREEN PRESERVATION SOCIETY's finest moments smacks of presumptuousness of the highest odor, but not only do these guys pull it off, they might actually consider tossing Ray Davies a melodic bone of their own one of these days. Really!