Rae & Christian
Mixer (DMC)
By: Alex Steininger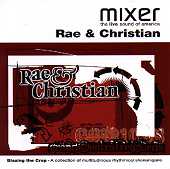 A hip-hop collection courtesy of Mixer Magazine, Rae & Christian's Mixer: The Live Sound of America is a fluent, beat-o-plenty mix of some of the best British hip-hop out there.

British hip-hop you say? The Brit's don't know how to do hip-hop. Or do they? Mixer kills the notion that they don't know hip-hop by entertaining you with several cuts from rappers and DJ's like Porn Theatre Ushers, Rae & Christian, Deadbeats, Riton, DJ Spinna, Tuff Crew, and Young Holt Unlimited.

Seventeen deliriously enticing cuts, if you're not shaking, moving, and overly pumped up again and again, track after track, either hip-hop isn't your thing at all, or you're not feeling the sonic vibes that run ramped through this album. In which case, you're probably dead.

Plentiful, meaty, and energetic, to say the least, this album proves over and over again that British hip-hop is alive and well. I'll give it a B.