The Spectacular Johnny Horton
The Spectacular Johnny Horton (Columbia/Legacy)
By: Alex Steininger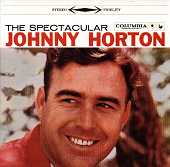 In 1960 an auto accident took the live of Johnny Horton, ending a career that spanned the country and rockabilly genres, and taking away from these genres the voice of a musician who had so much to offer and so much to offer the respective sounds.

The Spectacular Johnny Horton is a testament to the career of a man who could croon out a tender love ballad and then dive into a sweaty rockabilly delight the next, without losing a beat.

Counterfeit Love finds the crooning side of Johnny Horton delivering a slow, seductive ballad that will have you melting at the sound his silky voice and the soft spoken, glowing backing vocals that enrich the song.

All Grown Up is a sweet sock-hop pop number that will flash images of classic cars, malts, and after school burger joints in your head. While "Got The Bull By The Horns" will have you shuffling to the grooving rockabilly beat.

"Sam Magee," "When It's Springtime in Alaska (It's Forty Below)," and "The Golden Rock" are three prime standouts amongst standouts. Horton was truly a prolific songwriter who could deliver a sweltering number here and a genius love tale there. Ah... real country and roots rockabilly as it should be remembered. I'll give this an A+.