Sgt. Rock
Live The Dream (Beggars Banquet)
By: Alex Steininger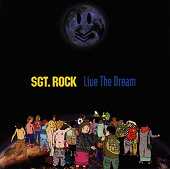 Fat beats, chilling grooves, and plenty of phat melodies, Sgt. Rock does more than rock; they deliver dance-electronica-hip-hop with flare. They are a rare breed of groove-sters that can mesmerize and tantalize you with some of the funkiest, most enticing beats out there. They are in a league of their own.

They're too funky to be electronica. They're too electronica to be hip-hop. They're too dance to be either of the above mentioned genres. And then again, they're too much of all of these to not be considered a part of each respective genre. So, what do you say about a band like Sgt. Rock?

The only thing I can say is that they're a good time waiting to happen. Blast the shit out of these guys, shit back, and watch as you blow out the low end on your stereo, because these guys are all low end grooves that will knock you on your ass. I'll give it a B+.