INTERVIEW: Libertine
Punk-bred Rock 'n' Rollers (Substandard)
By: Alex Steininger


"We're all about songs - good songs," says Libertine frontman Belvy. "Flash is cool and all, but you have to have the songs to back it up."

The Syracuse, New York Quintet manage to do both on their Substandard full-length, See You In The Next Life. Ten powerful songs that are as much rock 'n' roll and Glam as they are punk, Libertine writes "anthems for the underdogs".

"We really believe in what we're doing. I would hope people listen to the record and the songs stick with them," Belvy continues. "We're trying to write songs people will want to come back to in ten and twenty years, so hopefully when they hear the record they'll feel very strong about it, relate to it, and keep coming back for more down the line."

The band recorded the basic tracks to See You In The Next Life very quickly, but due to mixing problems, the overall process was dragged out to three or four weeks. Though, still an extremely fast recording session as far as the industry is concerned, the band believes in going in, knocking out a record, and wrapping things up as soon as they are started in order to maintain the freshness and the liveliness of their records.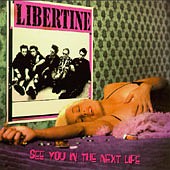 "Right now we've pretty much got our next record written. We need to start demo'ing pretty soon," glows Belvy on the band's ability to release a strong record, hit the road, and come back with another record ready to lay down to tape. He pauses a bit and then continues with yet another shocking statement: "We've got a split CD with the American Heartbreakers coming out soon, too".
The band doesn't have problems writing and recording songs, but as Belvy explains it, "We haven't made a record yet that is all about Libertine, but hopefully the next one will be the one."
When it comes time to compare the band's live sound to their records, especially after explaining the records they've release d up to this point haven't been what Libertine is all about, Belvy quickly points out that the live show is vastly superior to any of their recorded material.
"Unequivocally. If you saw this band live, you wouldn't believe it. We've carved our reputation with our live shows. The records sound good and all, but they don't come close to even remotely representing what we can do live. I don't want to sound egotistical or anything, but I'll put this band up against any other band live."
But what does Belvy think the band and their songs are all about?
"I think our songs and the sound of the band are the sounds of feeling, living, and being around in the twenty first century," he says without hesitation. "Check the record out! It's got something for everyone. Old punk, weird post-punk, and just good old rock 'n' roll can be found on the album."
So goes the story of a modern rock 'n' roll band that isn't afraid to wear their influences, from New York Dolls, Rolling Stones, Chuck Berry to the The Replacements and Husker Du, on their sleeves.