Cary Pierce
You Are Here (Aware Records)
By: Alex Steininger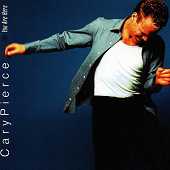 The best way to describe Cary Pierce's You Are Here is, well, to not describe it at all. But, since that is my job, I will attempt to do that. Funky and zesty, the poppy folk songs have momentum, bounce, and plenty of spunk. It doesn't hold back the punches; rather, it lets them slide while showing enough restraint to keep control of the situation (and the song).

His voice is confident and honest, carrying the songs to an even higher level than would be obtainable with just the vibrant music and crisp hooks. It is evident he knows his way around a pop hook, too, because songs like "The Best Thing," "All Quiet," and "Home," to name a few, have enough hooks to keep even anti-folk listeners content.

The music is uplifting folk with plenty of rollicking pop-rock to keep things interesting. It manages to never slip into a dull moment, preferring to stay fresh at all cost. I'll give it a B.