The Mockers
Somewhere Between Mocksville And Harmony (One Eye Open)
By: Gary "Pig" Gold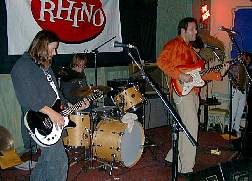 Yet another criminally hook-laden outfit that's been toiling in near-obscurity for far too long, SOMEWHERE BETWEEN is earning for The Mockers much-deserved high praise, from Billboard on down, and it's sure not hard to hear why: On this album lie a dozen stellar examples of good songwriting, good singing, and all-round good playing the likes of which are seldom heard on such a consistently solid basis.

My, but where to begin? At the beginning, I suppose, where "Martha" slowly but surely, part by precise part, builds into an gorgeous piece of Raspberries-like brilliance, as does "Mary Alice," "5 Minutes Before" and "Gray Area" elsewhere on this disc. "Here Come The Lackeys" melds a great Chiltonesque melody with the rhyming smarts of Jonathan Richman ("behind the curtain" and "Richard Burton"!), and "I'd Give Anything" isn't afraid to wear its Rooks debt proudly on its sleeve --and no wonder: head Rook Michael Mazzarella is most thankfully, and most masterfully, this album's producer.

Despite the odd misstep which is the inevitable by-product of musical chance-taking ("Selective Memory", for example, is just too self-consciously lush in its Baroqueness), SOMEWHERE BETWEEN MOCKSVILLE AND HARMONY is a work of undeniable greatness, and in the case of "It Isn't Always Mine", 2:52 of absolute, shimmering genius.