Sick Bees
My Pleasure (Up Records)
By: Alex Steininger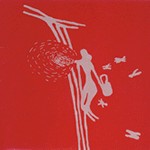 Lo-fi hardcore in a tantalizing indie rock presentation, Sick Bees' "My Pleasure" is heavy, bold, and disastrous, dishing up a powerhouse of guitar, drums, bass, and screams, all while making sure melody and the hook are always present.

"Saint Helen's" blends jagged guitars with pulsating rhythms over vocals that scream and harmonize, often back-to-back. "Amen" charges forward with a sparkling punk rock number wrapped around a crown of light indie rock guitars and earnest beats. Then there is "Tool Room" and "Mike," two songs that sum up what the Sick Bees are all about: hardcore beats, sweet indie rock melodies, and plenty of raw energy to bring it all together.

My Pleasure is as scary as they come and as sweet as you'd like it to sound. Think of them as an indie rock band with balls; not afraid to shake the scene up a bit and make a big splash, but still wanting to fit in. I'll give it a B.