Super Transatlantic
Shuttlecock (Universal)
By: Alex Steininger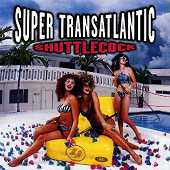 Crunchy, guitar-driven modern rock with an ear for pop, Super Transatlantic sounds like every other modern rock band out there today. The production is so clean and crisp that is sucks the life right out of the songs. The music is polished and tight, not a snag to be had. And, the overall feel is just so ordinary, that the music suffers.

Having said all of that, in the tradition of many radio-friendly rock bands, Super Transatlantic deliver polished pop moments that are so infectious you can't help but enjoy them. "Superdown" locks into your mind and won't let go; "Pretty Must Die" reels you in and after a few listens, easily makes its way into your subconscious. And "Can't Stand Losing You" is a two and a half minute pop song that will drive you mad.

They're nothing new. They're quite ordinary and boring, to be truthful. But, hey, even the ordinary bands, with the right budget behind them, are able to create polished modern rock that is so hook-filled even the haters enjoy it. Ugh... there, I admitted it; I enjoyed the album at certain points after a few listens. I'll give it a B-.