INTERVIEW: Pseudocipher
Electro-Gothic Duet
By: Sonya Brown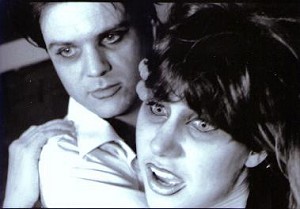 An interview with Pseudocipher: An electro-gothic duet conceived in 1997 by Christopher Anton and Rhonda Amber (Long Beach, California).

The new Pseudocipher EP contains 4 tracks from the upcoming sophomore release "Fragments of Empathy" . The tracks include: Frozen, Doubt, Nothing Sacred and Rupert's Star.

Sonya: Some of your songs sound as if they could cross over the "gothic line" and travel into a more melodic techno-pop genre (Rupert's Star comes to mind). How do you like to categorize your sound?

Christopher: We classify ourselves as "Trenchant Electronic". Probably the most accurate description would be "Goth Pop"; although we've been called many things (HA!)

Sonya: When is "Fragments of Empathy" scheduled to be released?

Christopher: "Fragments of Empathy", our sophomore LP, is in it's last stages of recording. The target release date is early October.

Sonya: What are your plans for touring to support the EP and pending CD?

Rhonda: We are scheduling some local shows for October and November. We are considering some label options. Depending on that outcome, we may tour the US next year.

Sonya: What plans do you have as far as releasing a single?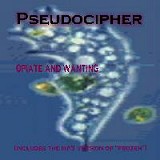 Rhonda: "Frozen" is available now for download on MP3.com and is also included on our DAM CD; "Opiate and Wanting." (an exclusive MP3.com release).
Sonya: Where have you chosen to take the music on this cd?
Rhonda: "Fragments of Empathy" is a departure from our original sound, utilizing more rhythms and less guitar.
Sonya: What can you tell me about the origin of the name "Pseudocipher"?
Christopher: We actually started with the name; "Cipher" which we found in a book. The word "Cipher" has a few meanings, but the most interesting one is..."a person or group of people without power, but used by others for their own purposes, or someone who is not important". It also means "Zero".
Rhonda: After playing a few shows, we found out that there were a few other bands with the same name, so Christopher came up w/"Pseudocipher" meaning in short; "Fake Nothing."
Sonya: What sort of sound gear do you use?
Rhonda: We are grateful for modern technology. In the past, bands like us were not able to get a decent sound without going into a major recording studio. We use a Roland VS-880 for recording and various Roland synths for everything else (the main one being Roland XP-50).
Sonya: Who are you influenced by? What would you consider your favorite cd's?
Rhonda: My favorites are early Genesis w/Peter Gabriel and (of course) Kate Bush. My favorite album of all time would have to be "Foxtrot" by Genesis.
Christopher: Mine would be Psychedelic Furs, The Cure, NIN, Catherine Wheel. My favorite CD would definitely be "Disintegration" by The Cure.
Sonya: Tell me about the switching back and forth between the male and female vocals between tracks. Do you base this on who wrote that particular song? How do you normally share the vocals?
Rhonda: Yeah, we share everything 50/50.
Christopher: Except for "Confession" off of our debut. I wrote that but thought it would sound cool if Rhonda sang it.
Sonya: Your March newsletter (entitled "The Trenchant Electronic Origin") contains a story about Elizabeth Bathory (The Blood Countess). I recently read a book about her life and I'm wondering how she relates to Pseudocipher and your music; and why you included this particular story in the newsletter.
Rhonda: There isn't any connection really. I just find her story very interesting. I'm a big fan of The Vampire Chronicles and Anne Rice.
Sonya: The upcoming Planned Parenthood Compilation is mentioned in your newsletter. Tell me a bit about this...
Rhonda: This compilation is the first one of it's kind produced by PlannedParenthood or Orange and San Bernardino Counties. It features all kinds of different bands (including Pseudocipher) and all the proceeds will go to their non-profit organization. We do a lot of volunteer work for them and helped put this compilation together. Hopefully, it will be released next month. You can get details through their website at www.pposbc.org.