VARIOUS ARTISTS
Mash It Up 2000 - Boston Ska Volume 5 (DVS Media)
By: Alex Steininger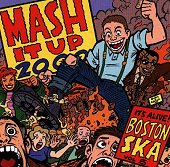 Boston prides itself on some of the premiere ska acts, like Bim Skala Bim, The Allstonians, and Skavoovie and the Epitones. Ska-punk bands like Thumper, Big D and the Kids Table, and Jumpsuit Jerry also give the Boston-area a distinct ska flavor.

DVS Media's Mash It Up 2000 - Boston Ska Volume 5 continues with an accurate representation of the Boston ska scene. Every sound you want, from the danceable to the sweaty, you'll find on this album. Thumper gives the disc the metal touch, The Allstonians play the Jamaican sound true to form, and Big D and the Kids Table make you dance and sweat, combining some fear upbeats with powerful horns and a fierce punk belly.

If you're a fan of ska, you'll dig this. Though it jumps around in styles (like most compilations do), it keeps in line with the ska track from track, and you'll never find yourself saying, "I wish I could dance to this." I'll give it a C.