The Churchills
You Are Here (Abrupt/Universal)
By: Alex Steininger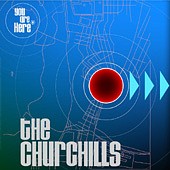 The Churchills brand of pop has energy and lots of momentum, but what it doesn't have is its own personality. It lacks a face; a style all its own you can look and say, "Yup! Definitely The Churchills." Instead, it treads generic land over and over again, delivering the same 1-2 combo of guitar crunch and bouncy rhythm that every other power-pop band manages to muster up.

That's not saying the songs aren't catchy, because they are. Heck, I even found myself listening to "Gonna Take A Lot To Stay" over and over again, learning more of the words each time, while I sang along. But, when it boils down to it, the disc is nothing more than a cheap sugar high. One that won't last, and one you won't be coming back to that often, because there are so many other cheap calorie bands you can get your sugar fix on. I'll give it a C.