NRBQ
You Gotta Be Loose (Rounder Records)
By: Gary "Pig" Gold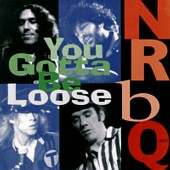 Like Penn Jillette (the tall, talking one in that magic duo with Teller) says in the great liner notes herein, "If you don't like NRBQ, you haven't heard them."

He's absolutely correct, of course, so if you haven't heard them yet, here's the perfect opportunity: A fifteen-song, rip-rowdy load of tracks "recorded live in the USA," clams and nicotine-challenged vocals defiantly left intact.

Kicking off with the be-bop-from-hell "I Got A Rocket In My Pocket" and the Bill Lloyd-style country-pop of "Be Here Now," the joyride crashes happily towards the bilingual romp "Paris" and eventually on to one of their many, many hit-singles-that-should've been, "It's A Wild Weekend." Yes, and hopefully upon completing this wacky sonic journey, you'll immediately join the countless hundreds of thousands gathered in bars and small concert halls the world over Just Like You who've become lifelong converts to all things "Q." Then you can marvel as your listening habits - not to mention entire day-to-day lifestyle - take a giant leap onwards and upwards.

Ready?