Green Day
Warning (Reprise Records)
By: Alex Steininger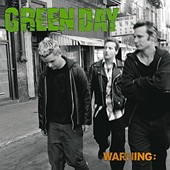 The band that broke pop punk to the masses, Green Day took a lot of flake. But they stood by their guns, repeating the success of their multi, multi-platinum selling major-label debut Dookie with two more catchy, hook-laden pop-punk albums that expanded on their three chord bash 'n' pop formula by including strings and acoustic guitars. But the punk mentality and the pop sweetness never left the band. And though it is true both of their follow-ups didn't come close to the infectious-ness of Dookie, they were strong albums nonetheless.

So what is the fate of Warning, the band's latest full-length? The verdict is in... It's a tight, catchy, melodic pop album that embraces punk here and there to give the songs an engine to drive all over you. "Church On Sunday" "Fashion Victim" crashes along side you with pop punk. "Misery" delves into some Vaudeville. And "Hold On" cruises the open seas in search of a perfect mixture between Irish-folk, British punk, and sonic pop music. But let us not forget "Jackass" and "Minority", two trips back to '77 where punk rock ruled CBGB's.

Green Day's latest is a tight, punchy pop-punk album that pop fans will dismiss because it's too 'punk', whereas punk fans will reject it because it's too 'pop'. But fans of music will embrace and enjoy it. I'll give it an A-.