VARIOUS ARTISTS
Punk Goes Metal (Fearless Records)
By: Alex Steininger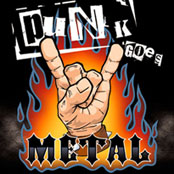 To hear Jughead's Revenge doing a cover of Poison's smash-hit "Talk Dirty To Me", well, it doesn't get much better than that. And though this is obviously the best track on the album, because Poison's brand of pussy-hair-metal was actually kind of catchy and Jughead's Revenge is infectious. Put those together and you have a no brain-er.

The rest of the album is catchy, too. AFI's rendition of Guns 'n' Roses' "My Michelle," Bigwig's "War Ensemble," originally performed by Slayer, A New Found Glory's "Heaven Isn't Too Far Away" by Warrant, and The Ataris doing Skid Row just screams fan favorites.

Each band stamps their song with a signature pop-punk sound, while also having fun with the arena rock and hair metal antics that go into each of these heavy metal classics. If you're a punk rocker who is a closet metal head, this is your medicine. Take it. I'll give it a B.