Nine Inch Elvis
Nine Inch Elvis (Invisible Records)
By: Alex Steininger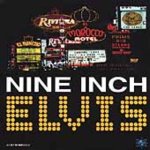 Industrial covers of Elvis Presley? Perish the thought. Unless, of course, Invisible Records attempts it. Then you know you're in for something out of the ordinary, at the very least. And, Nine Inch Elvis is just that. "All Shook Up," "Jailhouse Rock," "Don't Be Cruel," and "Blue Suede Shoes," to name half of them, are like completely different songs. Forget covers that break down just to rebuild the same song. Nine Inch Elvis creates an entirely different song each and every time, the only thing similar being the words and a the same melody line, most of the time buried by thick industrial drums and accented guitars.

Clever doesn't begin to describe this album. Once again, let's give props to Invisible Records for creates one of the most unique, original cover albums paying salute to the king. Elvis Presley will never die as long as create minds like those folks at Invisible Records re-interpret his legendary tunes. I'll give this an A+.