Betty Already
Amerimaniacs (Fly Lyla Records)
By: Alex Steininger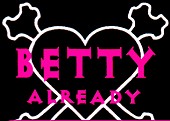 Crunchy, guitar-driven rock, Portland, Oregon's Betty Already delivers boy-girl mayhem on their debut full-length, Amerimaniacs, an album that is quick to draw comparisons to X and B-52's. However, where X is punk and rockabilly and B-52's choose to do straight up pop, Betty Already kick into high gear with sugar-coated, high-octane power-pop more comparable to a non-ska Dance Hall Crashers than the two listed above.

Though the dual vocals get in the way of the music sometimes, they also work in the band's favor just as much. The band is certainly not lacking in energy; this is where the female/male vocals work best, helping to further the loud dynamic of the band.

Solid instrumental, consistent songwriting, and enough sugar to keep your sweet tooth satisfied, Betty Already's debut is nothing to laugh at. It is a well-rounded album that will not instantly hit you, but with each listen will grow more and more on you. I'll give it a B.