Creeper Lagoon
Watering Ghost Garden (spinART Records)
By: Alex Steininger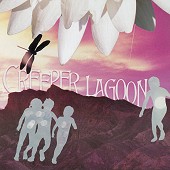 Beautifully lush and undeniably honest, the passion and tranquility of a Creeper Lagoon pop song is nothing short of genius. They've had an industry buzz for some time, which has finally paid off. They signed to Dreamworks Records recently and will be releasing their Dreamworks debut in the spring.

In the meantime, Watering Ghost Garden delivers six superb pop songs that are shining with intelligence, overflowing with emotion, and filled with intriguing hooks that will find you safe and warm.

The talent to make the listener feel at home and have a certain peace of mind is hard to translate into a song, but the bouncy, hook-laden abilities of Creeper Lagoon never fails to amaze. I'll give this EP an A.