PJ Harvey
Stories From The City, Stories From The Sea (Island Records)
By: Alex Steininger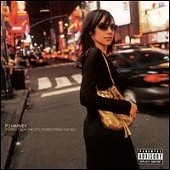 PJ Harvey's Stories From The City, Stories From The Sea is the type of edgy adult contemporary pop that you can imagine a dad or mom taking their daughter to go see. Or the type of album that parents really like, because its loud enough to recall their youth, but soft enough to sit well with their aging side, too. Then again, their children love it because it has depth and spirit. But, teenagers, of course, find it uncool because their parents and younger siblings dig it. Whatever the case may be, it is a strong album filled with jangle-y pop dressed up with vivid stories of life and living, driven by a Harvey's voice, backed up precisely by her guitar, and then structured by her rhythm section. Hook-laden, dynamic, and crafty, Harvey sets herself aside from all the other adult contemporary artists and modern pop rockers by actually touching on depth and saying something, rather than filling three-and-a-half minutes with words about nothing.

Here is a songwriter in her prime, writing clever, intense songs that will last the test of time, and will find audiences both young and old. Music like that is tough to create, and ever harder to write about. Hook-y and driven, but still light enough to touch upon various radio formats, Harvey delivers here. I'll give it an A.