Run DMC
Crown Royal (Arista Records)
By: Alex Steininger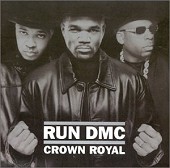 Talk about bitter and out for blood, Run DMC's Crown Royal is an in-your-face, beat-heavy fuck you record to all the imitators and kiddies that have made a lot of money on Run DMC's pioneering rap style. Of course, I don't care what genre you are in, this is always the case. Unique, groundbreaking records are never #1. So many bands paved the way for Nirvana, Nirvana broke, and paved the way for many more. Same goes for Run DMC. They influenced several hit-making rappers out there and now they're out to regain through title as the kings of rap.

With a guest line-up including everyone from Limp Bizkit's Fred Durst to Sugar Ray, Kid Rock, and Third Eye Blind's Stephen Jenkins, Run DMC hit the ring fists flying, ready to knock out anyone in their way.

Of course they succeed, delivering some of the freshest, most melodic, hook-laden beats out there with bitter lyrics that are every bit as grabbing as their grooves. Of course, one gets the feeling that if they don't regain their title, they're grow older and bitterer, which isn't good.

They may never sell as many CDs as Eminem, but they'll always have leaps and bounds on him in terms of talent. Can't they rest knowing they're more talented than all the hacks out there? Or are record sales their measurement of talent? Either way you look at it, they deliver the year's best rap album, hands down. Fine, fist-packing beats and razor-sharp lyrics make this a tear for rockers and rap fans alike. I'll give it an A.