INTERVIEW: Nada Surf
"Popular" Band Is Back With More Catchy Rock
By: Alex Steininger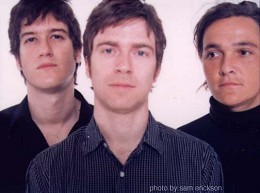 For me, Nada Surf was one of those bands that you really dug, then they went away, and after a year you realized you're really craving some new material from them, so you wonder where they are. After searching for information on them, and realizing you can't find any, you conclude they were just another one hit wonder who had their fifteen minutes, faded away, and moved on to something else.

Then one day I got an e-mail from front man Matthew Caws telling me they had a new record and that he wanted to send it to me for review. I got all excited. I mean, their hit, "Popular," was all over the airwaves. And why shouldn't it have been. It was funny. It got stuck in your head. And it was good.

As soon as I got the album in the mail, I popped it in my car CD player and took it with me to work and back every day for a week. I was instantly hooked, to say the least, and wondered why it had been released in Europe three years ago, yet the U.S. was just now getting it.

I e-mailed Matthew back and told him I had to set up an interview with him. So, one day, I got him on the phone and we talked about all things Nada Surf.

"Daniel is a programmer," Caws says on the band members' jobs while the band was on hiatus. "I did little things like work at a record store and help friends on their records. I just sat back and enjoyed life."

He continues, telling the story of how the band's struggle to get their record back from the major who was never going to release it. "The whole time we were dealing with trying to get our record back from Elektra," he says. "They'd lower the price and we'd bargain and they'd lower it some more. After year of arguing it, they finally gave it to us.

"It was a point of pride for us. We just wanted to put it out the way it was. They wanted us to add songs and change the artwork. It was just too much of a headache for us."

We then begin talking about the record's release in Europe.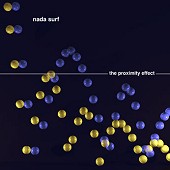 "The Proximity Effect came out in September of 1998 in Europe," Caws said. "So, because we knew it wasn't coming out in the states, we went over and toured Europe."
Europe is a great market for Nada Surf. Caws goes on to tell me about how they can go to Europe on a two year old record, having not played there for a year, and still draw good crowds every where they go.
"Europe is just really good for us. We can go there without any new material and still draw well. I can't wait to see what will happen when we have a third record to promote over there."
This quickly gets me going on a third record, which seems long over due, even though their second record is new in the states. Still, you can't help but think the band has grown in the three years since The Proximity Effect was originally released.
"We've been working on the 3rd record all along," Caws says confidently. "We have the luxury of not being in the song factory. We get to go at our own speed. Plus, we're very picky and slow. It takes us a long time to make a record.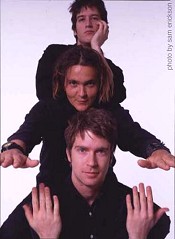 "We just now almost have the third one done. I mean, it took us two years from the first record until the second record."
He pauses and then continues, "We're already late to our European label for the third record."
We then discuss the album they are promoting, The Proximity Effect.
"Our first record was all about playing live, whereas the new one is more conscious of what we wanted to do. We tried to slow it down," he explains. "Also, the new record is more fun to play live. It's pure pleasure."
Caws goes on to explain he "likes The Proximity Effect. There is just one song I'd leave off of it. But, I like it. We're just not really paying any attention to that record. We're trying to move ahead."
Move ahead?
"The next record-- well, the rock songs will be the same. The rest of the album will be much slower and much more open. We're basically a garage band," Caws fills us in. "I'm always listening to a lot of slow stuff, but I still love the rock. The next record will reflect that."