The Wisdom of Harry
House of Binary (Matador Records)
By: Alex Steininger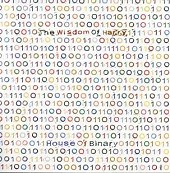 Quirky European electronica indie-rock, The Wisdom of Harry is a digital soul record. The drum machines make every note visible and the vocals help make them come to life, bringing them into your subconscious like addictive pills you keep popping because you can't get enough of them.

The songs are danceable, powerful, and melodic - indie rock kids will love them because of their chic pop twists. Electronica fans will dig the intriguing beats and faint, endearing vocals that fights with the melody for top billing. And everyone else will the mysterious, hidden charm of the album perpetuated by the worst (read: most memorable) packaging I've seen in awhile. It's a big mess that makes everything they want to stand out. Including the music. I'll give this album an A-.