The Places
The Autopilot Knows You Best (Absolutely Kosher)
By: Alex Steininger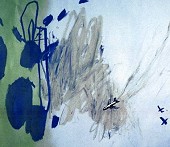 The Places' The Autopilot Knows You Best is a serene, passionate album built around honesty and integrity. Every note the band plays, as well as every word they sing, is straight from the heart. Never do they stray from their objective of creating some of the most heartfelt love and lack-of-love songs out there.

Front woman Amy and her acoustic guitar lead the pack, while light rhythms are sprinkled over her tender, warming songs. Her voice is like a confused angel, in the know, but still blindsided by naivete. However naive or confused, though, it is always beautiful. Haunting at times, while comforting during other times, The Places' use samples to add humor to their songs, setting the mood for dark humor, depression, confusion, and then realizing it is going to be alright.

"Mission Impossible" is an airy, light song overshadowed by darkness. As it moves along it builds, letting go, and then building up again, making sure you're always on the lookout for what is going to happen next.

"Own Your Own Home" is lo-fi and poppy, bouncing and bubbling with an indie rock gesture, though keeping a cloudy, dark sense to the song, ensuring the pop stays in line and doesn't overshadow everything else.

Then there is "No Mystery," a subtle, folk-y number that moves along at a slow place, giving you time to reflect and absorb the delicate, potent nature of the song.

The Places are one of the best new bands. They deliver music that is pure and untainted; music that is vital, honest, and grounded in reality. The songs are all strong. The lyrics are worth reading without the music, and even more appealing when put in contact with the gentle, dark, yet soothing sounds that The Places create. I'll give this album an A+.