Stolie
Stolie (Screaming Galaxy Records)
By: Alex Steininger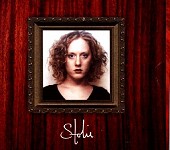 Every genre has its "compare to" artists, as I like to call it. If you're trying to explain a band's 'modern rock' sound to someone who is unfamiliar with an indie scene, they may ask, "Oh, they sound like Bush or Third Eye Blind?" or something ridiculous like that. Of course, you'll go, "Yeah, whatever" and shrug it off, but deep inside you'll be thinking that person is a moron.

Stolie's self-titled full-length fits firmly into the female singer-songwriter/folk category. And the quick and easy comparison just might be Jewel. However, where Jewel is whiny and irritating, Stolie is soulful and insightful. Here songs aren't as poppy or as repetitive; they have meat and a life of their own. They've got more depth, more feeling, and, most importantly, more warmth to them.

Stolie's voice is graceful yet abrasive. She can be soothing and uplifting or shaky and hard to deal with. But, that is what gives her songs life and personality. The result is a full-length that won't get you singing along, but will get you listening attentively, or just for some soothing background music, and be more than just background noise. This is a CD you sit and enjoy. I'll give it a B.