Bobby Fuller / Bobby Fuller Four
Shakedown! The Texas Tapes Revisited / Never To Be Forgotten: The Mustang Years (Del-fi)
By: Gary "Pig" Gold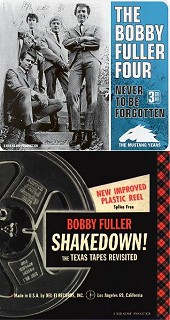 Hard to believe it's been thirty-two years now since the self-proclaimed "Rock 'n' Roll King of the Southwest," who practically single-handedly bridged the (southern-fried) Fifties to the (swinging-English) Sixties, was found gasoline-soaked and beaten to death in the front seat of his mother's Oldsmobile. It goes without saying that this was one of rock's most mysterious deaths (a mob hit? Suicide? Acid experiment gone bad?), but it was also one of its most tragic: For like his idol Buddy Holly, the wealth of great recordings Fuller left behind during his criminally short career have only continued to grow in their influence and importance over the years.

These two superb box sets from the good folk at Del-Fi explain why. The Texas Tapes collect Fuller's earliest recordings -- many made in the surprisingly sophisticated studio he built in his parents' El Paso home -- and show a young artist still casting about for his own musical identity amidst all the Holly, Eddie Cochran, surf-rock and even "I Want To Hold Your Hand" experimentations. Still, early versions of his best-remembered song "I Fought The Law" presented here (even these prototypical takes make The Clash's later version seem positively demure by comparison!) show a man more than ready, willing and able to push the envelope far, far forward.

This he soon did: The Hollywood tracks filling Never To Be Forgotten fully demonstrate Fuller and his band were at this point one of the most accomplished in the land, forging their own unique Liverpool-by- way-of-Lubbock sound (check out the bonus Celebrity Night at PJ's disc, "Recorded Live! On The Fabulous Sunset Strip," for more evidence of this). Needless to say, had his life not been snuffed out within mere months of "I Fought The Law" hitting the international Top Ten, there's honestly no telling where Bobby could or would have taken his music next. Alas, all we have left of this remarkable man's work is lovingly housed in these two collections, both of which are musts for not only keen students of American rock 'n' roll, but any and all brave souls out there who'd care to now pick up the good work Bobby Fuller never got the chance to finish.