The Mother Hips
Green Hills Of Earth (Future Farmer)
By: Alex Steininger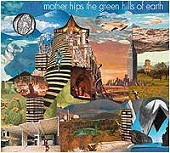 The Mother Hip's latest, Green Hills Of Earth moves beyond their hippie-jam outings of the past and delivers a gentle, poignant pop album of blissful melodies and soothing rhythms. This is the type of record you listen to once, instantly get hooked, and then listen to over and over again, never growing tired of it. It is a delicate, highly accessible album you can imagine getting airplay hand over fist, yet it is an indie treasure for the most part, never selling millions like it should, but reaching out to the twenty thousand or so who are 'hip' to the hips.

Grand, valiant pop songs stretching beyond anything in pop or rock, The Mother Hips' latest is a brilliant, sophisticated outing that should land them new fans, more record sales, and proven staying power. I'll give this an A+.