INTERVIEW: Quasi
Quasi Front Man Speaks On Band's Latest, Sword of God
By: Alex Steininger



"It's Quasi's turn for a while," Coomes, the front man for the Portland, Oregon based duo states proudly.

Coomes helped earn a name for himself as the bassist and collaborator for Oscar-nominee Elliott Smith, and Quasi drummer Janet Weiss handles the kit for Kill Rock Star's pride and joy, Sleater-Kinney.

As such, Quasi, in past years, has become a back burner project of sorts for the two overly booked musicians, who worked Quasi in between their day job music gigs.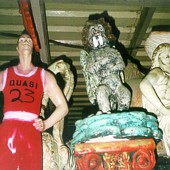 However, now that Quasi has signed with well-known indie Touch and Go and released their forth album, The Sword of God, the band is ready to concentrate on Quasi.
A Roxichord Organ-centric pop band, Coomes and Weiss deliver jaded, if not weary pop songs for the cautious, skeptical fans of music who prefer substance over style.
Not that Quasi doesn't have style. The duo comes alive in concert, with Coomes attacking his organ like he wants to kill it at times and Weiss making love to her kit, producing fluttering to crashing beats, depending on the sound that is needed.
It is Quasi's charismatic sound that has ultimately propelled them into indie darling status. Packed with plenty of astute observations on the ridiculous nature of American culture at times, Quasi is more than a simple fun time band. Though, with sugarcoated, organ drenched pop songs covering their albums, they have plenty of fun to offer. For those seeking deeper, thought-provoking content, the option is always there, too.
The Sword of God marks several changes for the band. First, they left Up Records after two records, following the death of founder Chris Takino. Second, the band went back to the home recording method, choosing to track and lay down the songs for the album in their basement.
"It was much more difficult than recording in a studio," Coomes says of the differences between recording at a professional studio and at home. "It took a long time for us to figure out how to use our recording equipment properly."
Coomes continues, explaining their mindset and decision to record the album at home.
"I didn't know it would be difficult. I thought it would be fun. But also I think it's important to push things on some level every time you make a record. We learned more about the craft of making a record by doing it this way than we could have otherwise, which ultimately will be a benefit to us on a personal level. Even if other people don't notice anything wildly different in the sound of the record from our other ones."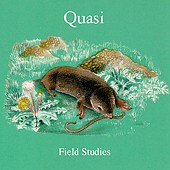 This immediately brings up questions on the differences between Field Studies, the band's last album, and The Sword of God.
" Sword of God is more varied emotionally than Field Studies," Coomes says confidently. "I think the cover art is much better and I like my singing on it better. Maybe it's a little simpler structurally - at least that was the intent. I think it's a little too long. Next time I think the record will be shorter. I think that's where it leads us: shorter."
When we start to talk themes and common threads running through each song and the album as a whole, Coomes states that "more of the songs were influenced by psychedelic drugs than the other [albums], but I don't think that that necessarily lends itself to any kind of cohesive theme."
Coomes is a very reserved, quiet songwriter, until he gets up on stage, and then he lets it run loose. And when it comes to talking about his goals or motivations behind writing the songs, he is very blunt about it all.
"I don't think of a record as having any purpose outside of itself, other than my own expression as an 'artist.' It's not going to change the world and it's not going to make me rich. We would make an entirely different type of record if either or both of those were our intentions," he states without a second thought.
"I just try to write about feelings and ideas I have at any given time," continues Coomes. "The songs usually are all written within at most a year or two of each other, so they reflect things going on around me at about the same time, so maybe they tend to tie into each other in that way."
A very collective duo, Quasi isn't Quasi without Coomes and Weiss working together as one. However, when it comes to the songwriting, Coomes picks up most of the credit, writing the majority of the lyrics, one of the most engaging things about the band.
Weiss, however, does have her voice in the band, writing and singing a few songs throughout their discography. But, the question is, will she ever be half of the songwriting team or will it be primarily Coomes who carries the songwriting load?
"I don't see why not," Coomes says on the idea of Weiss writing and singing fifty percent of the songs on future albums. "On Early Recordings Janet wrote three songs of her own and we co-wrote four additional pieces of music together. On R&B Transmogrification she didn't write any on her own, but we co-wrote one together.
"I would like here to write more than she does - it hasn't worked out in advance. I like the sound of her voice; on The Sword of God she sings a song that I wrote, which we've never done before."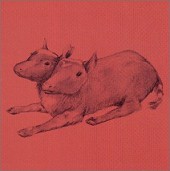 In addition to their new album's August release date, Touch and Go will be re-releasing Quasi's first album, Early Recordings in late August.
"Our first record, Early Recordings, is being re-released simultaneously with The Sword of God. It's pretty different from the new record, but in some ways it's our most interesting record. I'd like to get back to the approach we took on that record a little more, I think. Most people won't pay attention to Early Recordings because the sound quality isn't "professional," but I guess enough people are interested in hearing it to justify a re-release."
"In some ways [it] is our most interesting record," he adds.
"We had a lot of ideas at that point, but we started concentrating on doing things a certain way after that, so we developed in a certain general direction, while other areas we could have explored more were just left alone. Now that we're recording ourselves again, I think it might afford us the opportunity to try out different things again."
When asked what the meaning behind Quasi is, Coomes wants everyone to know that Quasi's purpose is to remind you that "life is worthwhile".
And when I ask Coomes whether or not he's ever had the idea to do a solo album, he tells me that "If I ever did a solo album, it would not be just me and a guitar. I'd like to do a Metal Machine Music-type thing maybe."
A new label, trouble learning how to operate their gear and get the sounds they wanted, Coomes and Weiss learned a lot from the recording of the album. So are they completely happy with the way it came out?
"I'm happy with the new album, but I've never managed to blow my own mind as of yet," Coomes says looking forward to the release and subsequent tours of The Sword of God. "It's something to strive for... maybe next time. I still don't think we've made the record we're capable of, so we'll keep on it."