INTERVIEW: Ultimate Fakebook
Emo Geeks Rock Out After School
By: Alex Steininger



"We are very indie minded as a band in our work and touring ethics," says Ultimate Fakebook's front man Bill McShane, "but we see ourselves as writing what we think could be radio anthems."

McShane is not your typical rock star hopeful. He talks to fans at shows, doesn't have a problem standing around until the last autograph is signed, and fame and fortune aren't the reasons that propel him to write rock anthems and radio-ready hits. It's his desire to write an album filled with tight rock nuggets that make you want to get up, dance, sing along, and play air guitar in front of the mirror that inspires him.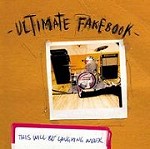 His band's major label debut, This Will Be Laughing Week is a rare combination of sophistication, fun, and volume. Emo and indie rock fans will cling to it like it is the next big thing and radio listeners will hopefully latch on to it, making it the next big thing.
"To us that's what a pop band does," Bill continues. "We all grew up listening to pop music and seeing the huge rock bands playing the stadiums and all that stuff. So in some weird way, we are all about existing on both those levels.
"That's our goal, to be a 'real' band you can believe in, that writes catchy, fun, make-you-wanna-rock-out hits."
Tales of heartbreak, not getting the girl you want, rocking out, and living life in the war zone that is high school. UFB's pop songs are smart enough to appeal to a wide audience, but so potent and loaded with teen angst and youthfulness, teenagers hear the band and instantly relate. So much so that the band has been getting plenty of fan mail congratulating them on writing the perfect song for their breakup or ordeals at school.
"We get emails and letters now which is great. Most of the time someone refers to a breakup they had, and how listening to the album cheers them up, so that's really cool," says Bill with plenty of pleasure.
"We sort of feel like that's the kind of band we wanna be, one that makes you rock out in front of the mirror and forget about any bad stuff going on around you."
He continues, explaining why he likes to write fun songs rather than take a stance on political issues. "I definitely feel like there have been enough reminders in music about how messed up the world is, so it just feels better to try to get people to escape and have fun."
When I ask him what makes him want to write about the topics he covers in his songs, he thinks about it and tells me he's not quite sure.
"You know, I honestly don't know the answer to that one, and I think that's what I love about songwriting. The fact that I don't know why I write about what I do. I definitely have never tried to blatantly be universal, but at the same time we see ourselves as writing pop tunes meant to be sung along with, so that in my mind translates to lyrics about stuff anyone can understand and be affected by. Within that hopefully we can bring lots of personality and freshness to the equation, and someday write a song or two that connects with people."
With This Will Be Laughing Week helping to expand the band's audience, the talk soon leads to a follow-up to capture on the hit potential of Laughing Week.
"We have the entire next album written and demoed," shares Bill. "We should be heading to the studio this September to record it.
"It is going to be us striving for the exact same thing we have since day one, an album with not one bad song that rocks you and gets you fired up and singing along.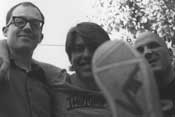 "We'll probably have some fun messing with different sounds and stuff, but UFB is definitely a three-piece rock band, so no major curve balls are planned up our sleeves.
"One thing I do know is there aren't as many references to high school in the new songs, but I'm sure some sort of other lyrical theme will make its way to the forefront. The goal is great songs you play really loud."
McShane also shares that they "have recently parted ways with Epic/550, so at the moment we are between labels."
As for the future, the band will be releasing a split EP with Reggie and the Full Effect on Vagrant/Heroes & Villains in the fall and tour as part of the Vagrant Across America tour, both as UFB as well as in Reggie and the Full Effect.
"It's gonna be a blast," McShane says about pulling double duty with UFB and then Reggie and the Full Effect. "And we can't wait. The Reggie show is gonna be pretty rad."
Beyond that, the band will release their third full-length in the spring of 2002. "And I'll be going to Episode II in the summer, that much I know," McShane is quick to add.