The Lawrence Arms / The Chinkees
Present Day Memories (Asian Man Records)
By: Alex Steininger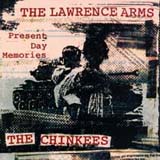 The Lawrence Arms deliver rockin', punk-driven emo blows, quick and powerful, able to bring you to your knees and beg for mercy or make you run to the corner and hide the tears. On the second portion of this split CD, The Chinkees deliver ragging, chunky guitars, spiked rhythms, yet pleasant pop-punk with an edge. Except with on the pop-ska of "Run for Help" and the acoustic guitar pop of "Present Day Memories", two tracks that show Mike Park's versatility.

The album is a pop-punker's delight, mixing strong songwriting, catchy melodies, and tight performances throughout. I'll give it a B+.